Meet Our Team
At Dress Gallery, we pride ourselves on having a diverse group of highly trained consultants who are prepared to help any bride with all of her wedding needs. From the bridal gown to bridesmaids to tuxes, each consultant is passionate about the industry and ready to turn a bride's vision into reality!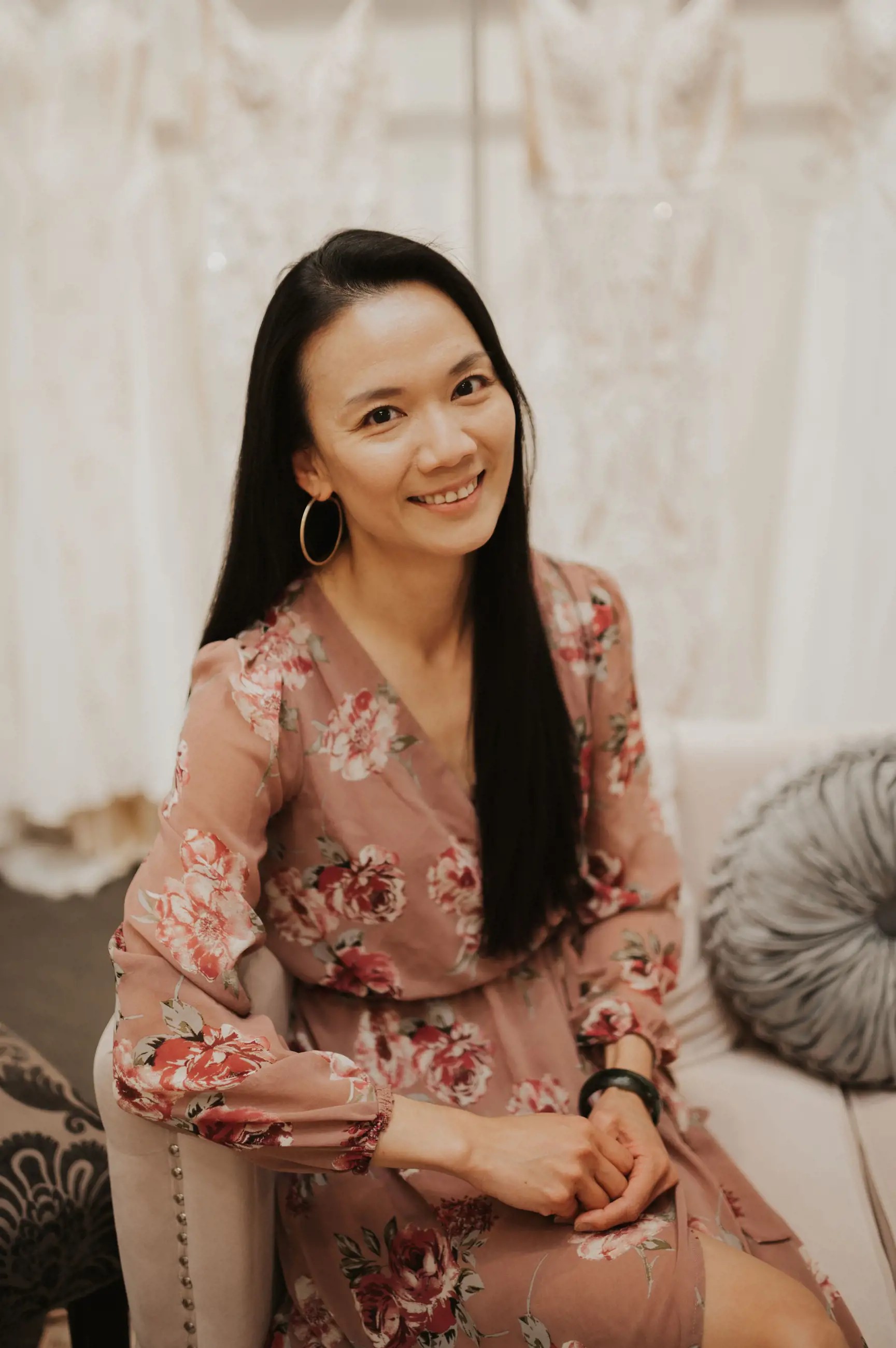 April
April is the founder, owner, CEO, and Head Boss Babe of Dress Gallery and Occasions by Dress Gallery. She started in the bridal world over 2 decades ago with a dream, determination, and a WHOLE BUNCH of mother's gowns. Over the years, she's flourished her business into a thriving staple of the Wichita community. She mostly works back-of-house at DG, helping us as our fearless leader as we navigate through tremendous growth. You can usually see her running all over the store to assist our team wherever needed. April is a graduate of Pittsburg State University, where she met the love of her life, Jason. They got married in 2001, and instead of children they opted to raise cows on the side. April is a fitness enthusiast and an avid traveler, constantly jet-setting around the globe to check off countries from her bucket list. As much as she can, she loves to visit her home in Taiwan and introduce her loved ones to her family back there.
The April Starter Kit: Boba, gym bag, her passport, a receipt from George's Bistro, and a designer bag.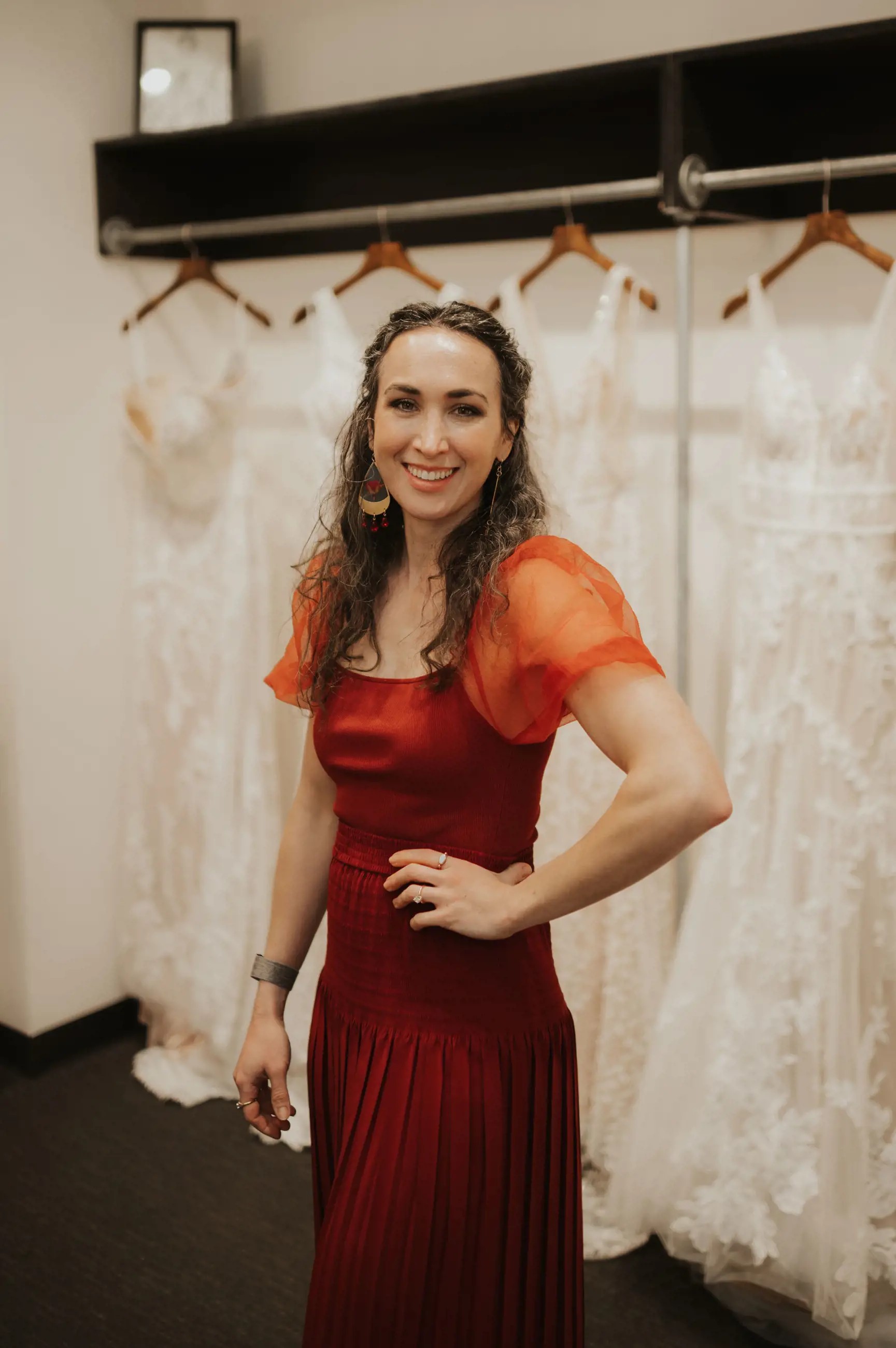 Jillian
Jillian is the Sales Manager of Dress Gallery and our in house spiritual guru. She's been in bridal since 2007, giving her over a decade of experience and expertise. Jillian is our Gunne Sax-loving, vintage-wearing, comfort-giving Zen Master; stepping into her bridal suite means stepping into a sacred place for brides. Truly, she is happiest in her bridal suite giving brides a one-of-a-kind experience as they find their perfect dress. She has a hand in pretty much everything that goes on in our world from social media to traveling to markets to planning for the future of our store…the list goes on and on. She has been married for over 10 years to her husband, Cody, and is the mother to (one of) Dress Gallery's favorite kiddos, Phoebe. In her spare time, Jillian loves working out, spending time in her garden, and thrifting the coolest outfits! She also just finished writing her first book–so look for it on shelves soon!
The Jillian Starter Kit: Her hairless cat (Smeagol), a packet of seeds for her garden, museum admission ticket, a vintage dress, and a spin bike.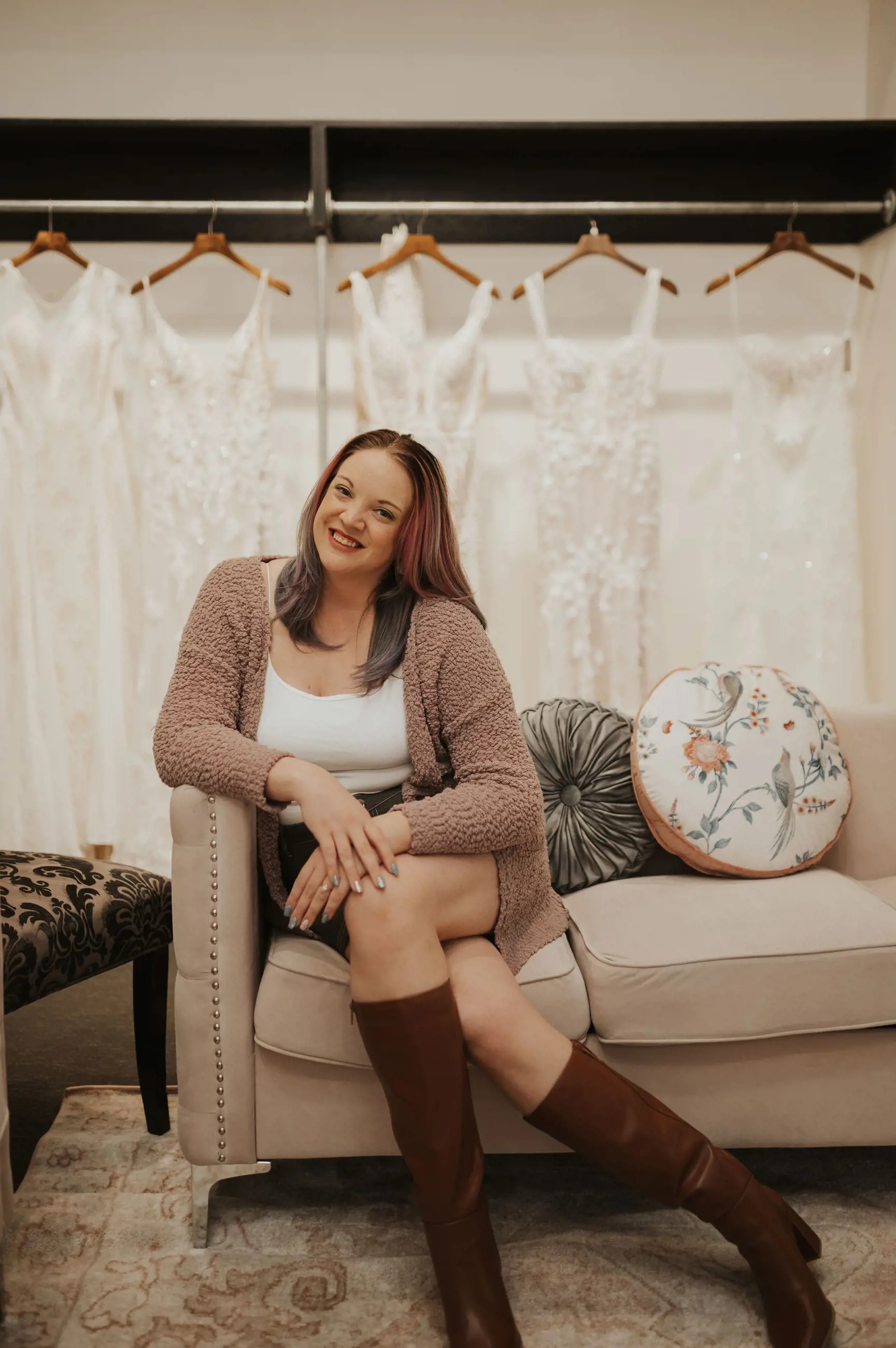 Allison
Allison is Dress Gallery's Manager of Menswear and bridal consultant. When she started with us full time in August 2020, she had already been in the bridal industry for years. While she still loves working with brides to find their perfect dress, she also found a passion to inspire grooms and anyone who wants to wear a wedding suit to look and feel their best on wedding day! Basically, she can make you and your guys look good. Allison married her best friend, Jeff, in the ultimate wintery wedding in January 2020 (in a Dress Gallery dress, of course!). They became parents to Dress Gallery's favorite little guy, Hudson, in July 2021. When she's not styling groups to perfection, Allison enjoys taking her son to Exploration Place, watching true crime documentaries, and bedazzling anything you can think of.
The Allison Starter Kit: Pitbull Pups, Jim Beam, sparkling confetti, a fluffy blanket, and a Chiefs' jersey.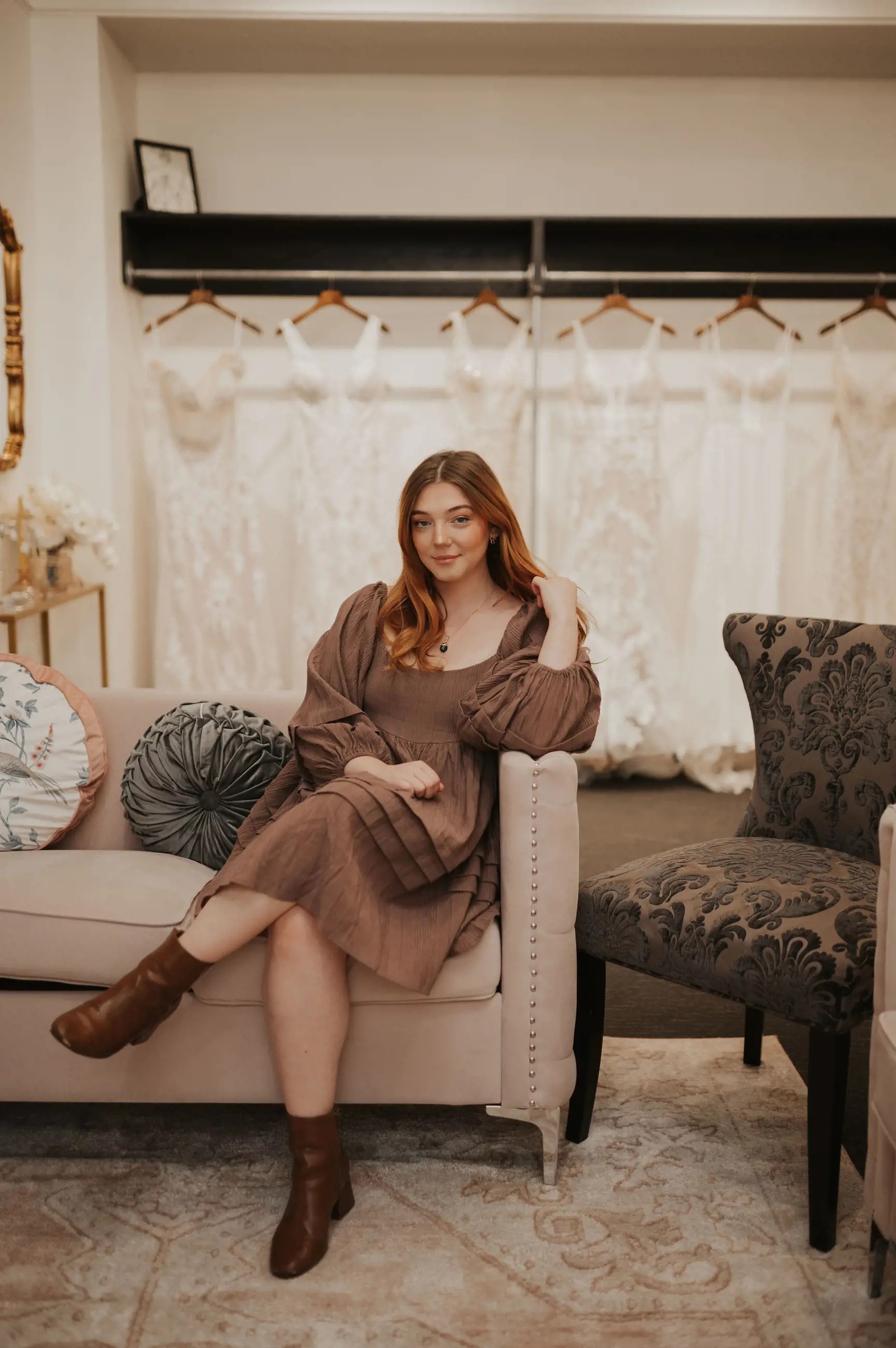 Alexis
Alexis is one of Dress Gallery's longest employees, but we finally snagged her full-time in April 2021. Not only is she an amazing bridal consultant, she also creates most of the media content you see shared all over our socials! From photo shoots to the latest Tik Tok trend–Alexis is on it. She is the ultimate hype girl and always makes you feel confident and comfortable when you're with her. She also absolutely adores her husband Jarrett, who she married in August 2020, wearing a gorgeous Essense of Australia gown. Alexis is a voracious reader with an active BookTok/Bookstagram following – she will HAPPILY give you recommendations for your next Watermark run! In her spare time (if she's not reading), you can find Alexis building her photography business, at the gym, or on TikTok belting out Taylor Swift at the top of her lungs.
The Alexis Starter Kit: Multiple books, crystals, tickets to Taylor Swift, her camera, Jarrett, and her favorite hoodie.
Maria
Maria has been a Dress Gallery staple since we created a position for her in May 2021. She recently was able to join us as a full-time Bridal Consultant after graduating with her bachelor's degree from Wichita State University in December 2022. Right after graduation, Maria married the love of her life, Nic, in January 2023. She looked absolutely stunning in the customized looks (yes, plural) for her ceremony and reception. Now that she's done with school and planning a wedding, she is here more often and you can usually find her either helping brides into dresses or trying on the dresses herself. You're in good hands with Maria styling you! When she's not at DG, Maria enjoys a good glass of wine, spending all day reading a sappy romance novel, or cooking new recipes out of her family cookbook.
The Maria Starter Kit: Pearls, a Maltese puppy, espresso, a puff-sleeved dress, multiple rings for each finger, and a tennis racquet.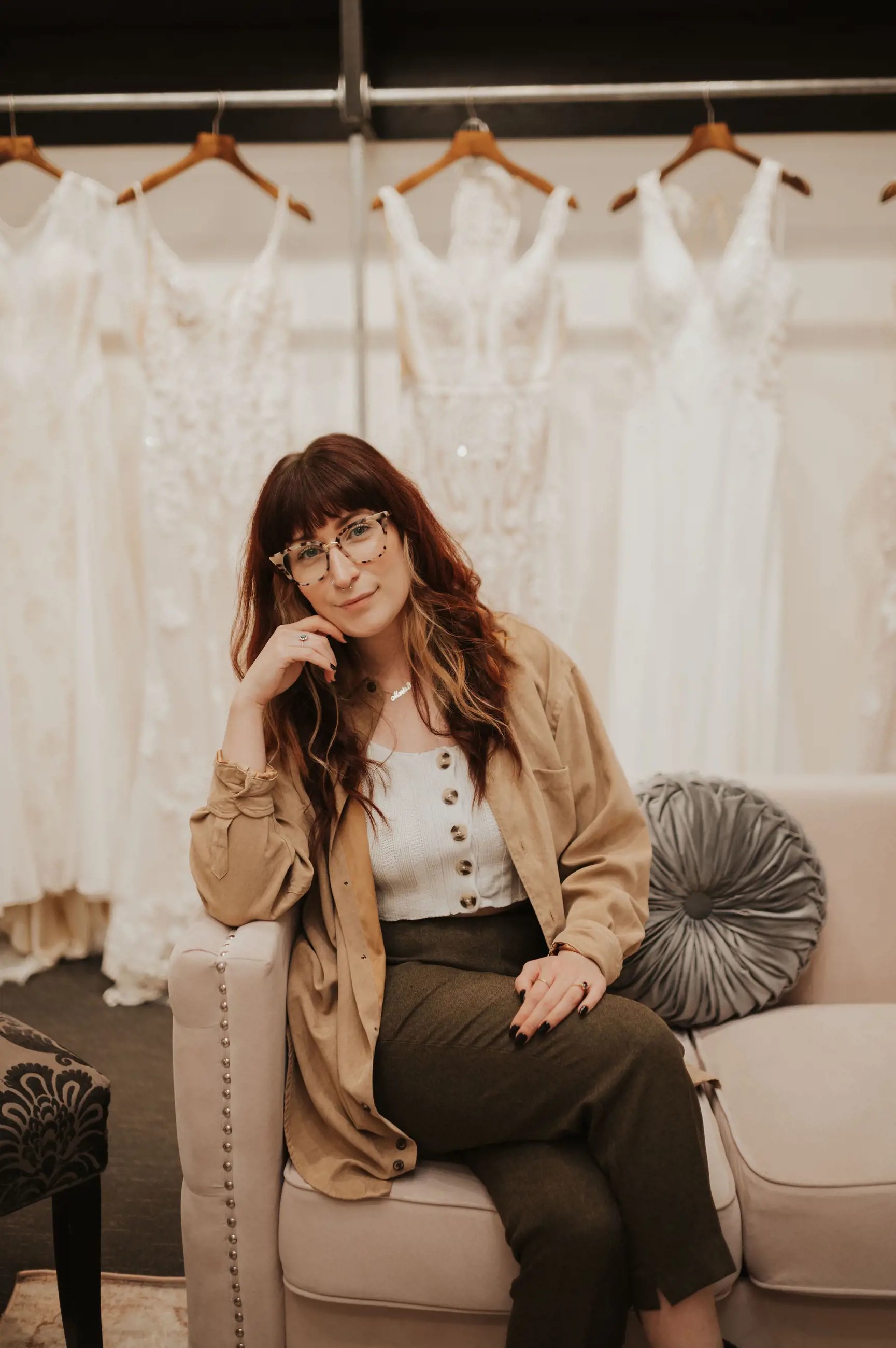 Marisa
Marisa is a Bridal Consultant who also handles and organizes our numerous activities and events. She helps plan all of our internal meetings, team building exercises, fun get togethers, and more! Her creativity and kind, outgoing attitude resonate with brides. Her positive energy and natural aesthetic makes her bridal suite one of the most inviting places in the store. Marisa became a DG bride in May 2022 when she married her husband, local bass player–Caleb. They are big fans of live, local music and truly love to support the Wichita community. She also loves cooking, teaching herself clothing alterations, and riding her bike around town.
The Marisa Starter Kit: A band tee, coffee, local anything, organic gardening, and Love Suckle sticker.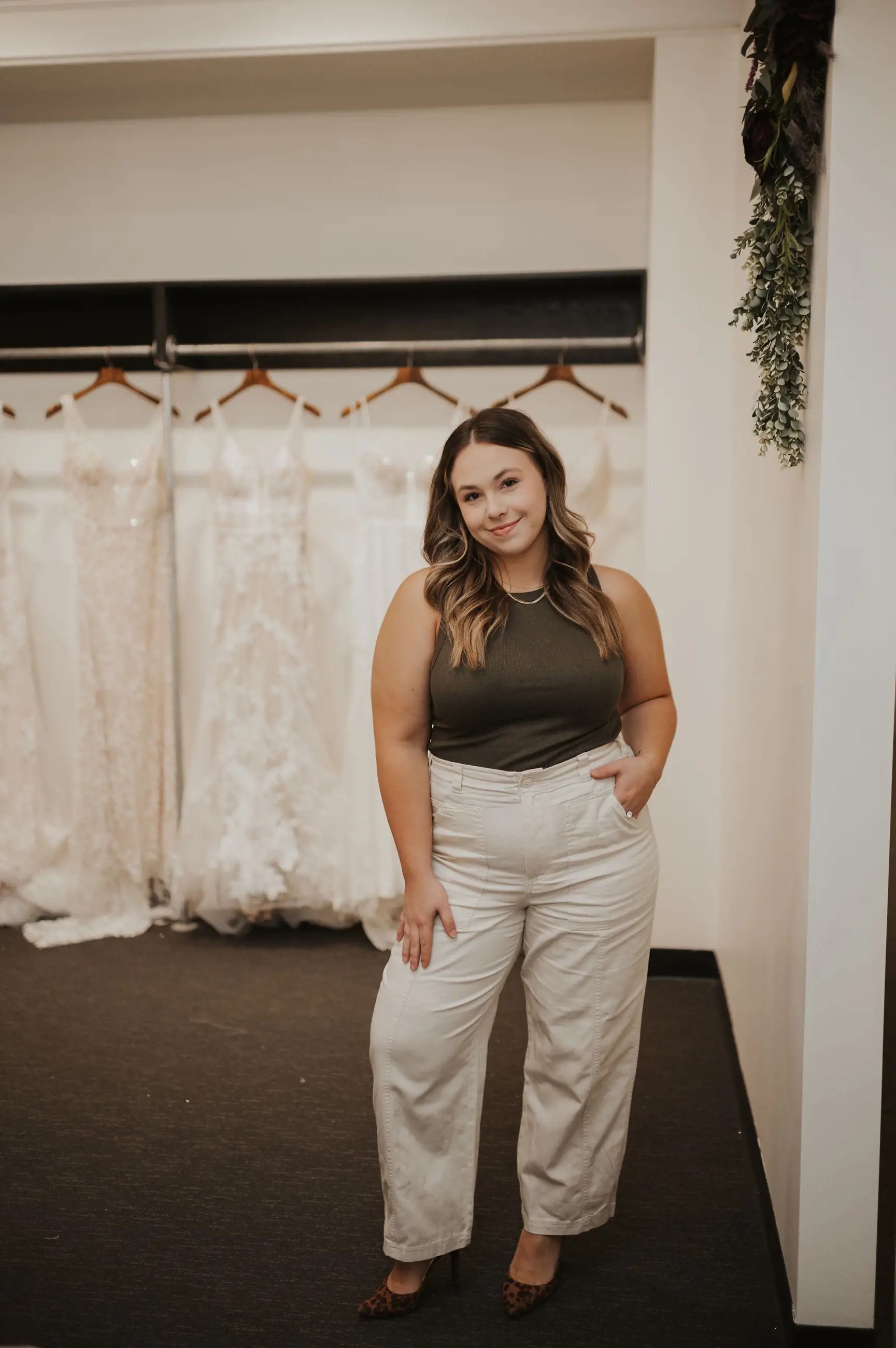 Cara
Cara is one of our newest consultants and does a little bit of everything. Whether it's bridesmaids, bridal, or menswear Cara has a special talent for being perfect for the job. Her interest in the fashion industry started when she was just 14 years old, and she has a degree in digital marketing and design where she can let her creative side loose. She is eagerly waiting to marry her fiance, John, in September of 2023 at Prairie Hill Vineyard. Together they have two golden retrievers, Tucker and Charlie. When she's not styling your bridal party, Cara enjoys playing sand volleyball or getting in a round of golf. In her downtime, she partakes in (lots) of caffeine, especially the kind you can get at Coffee Daze or other locally owned coffee shops.
The Cara Starter Kit: espresso martini, a neutral colored outfit, her Stanley, a Target gift card, and a plane ticket to visit her home in Chicago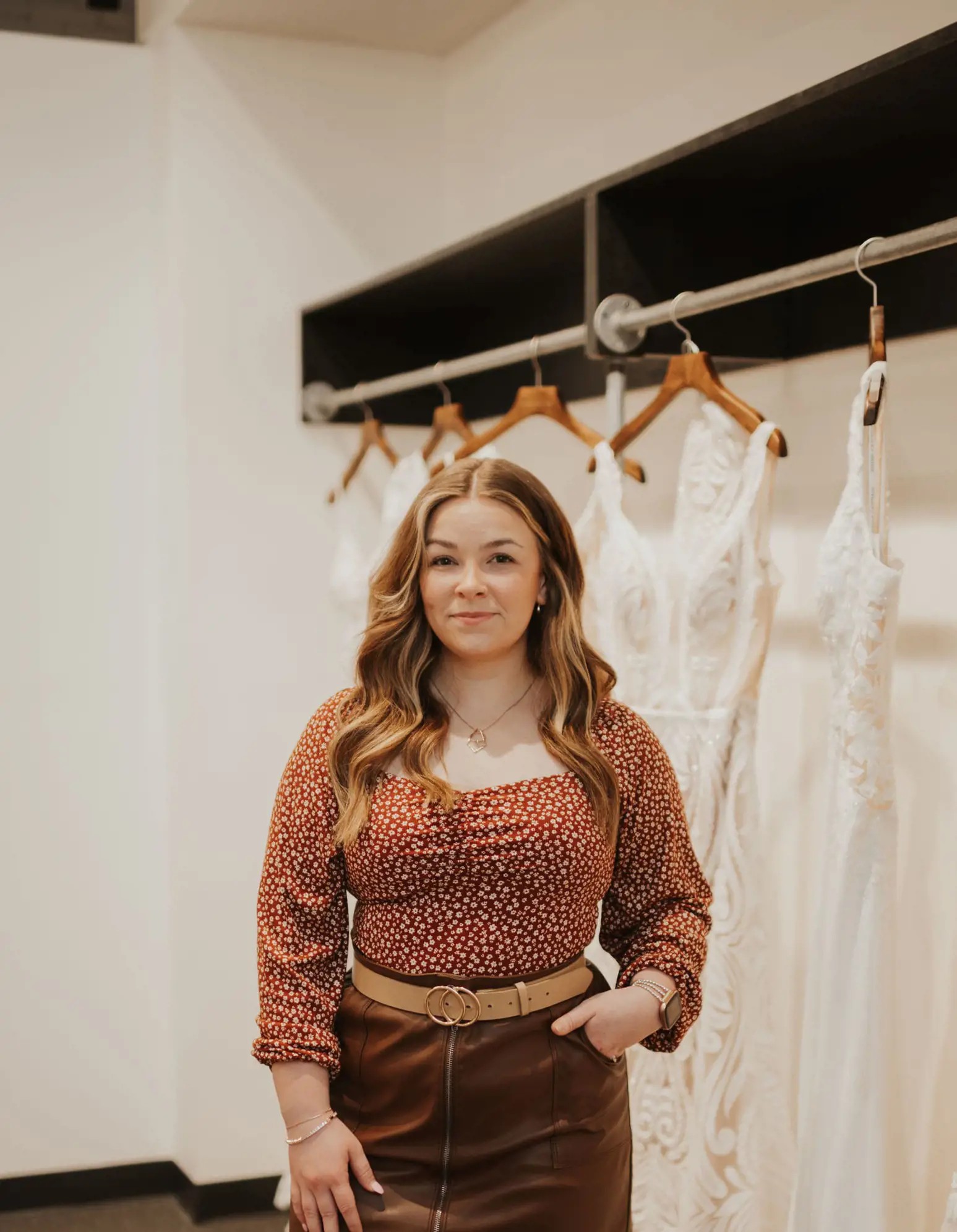 LaChelle
LaChelle (Chelle) is also one of our newest bridal consultants, but has very quickly become part of the family. When you walk into DG you might find LaChelle behind the front desk greeting you, helping a bridesmaids group find their perfect colors, or celebrating with a bride after finding her dream gown together! LaChelle becomes bride herself in May 2023 when she gets to marry her best friend, Mason. In her free time she enjoys having game nights with friends, partaking in the Wichita Food and Booze scene, and binging the Office (again). LaChelle also enjoys photography and loves to photograph couples. You are in great hands having LaChelle help you with all of your party's needs!
The LaChelle Starter Kit: Ice Cream, coffee, her white boots, her niece (Becklyn), and her camera.